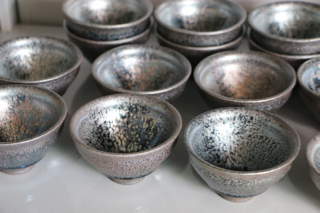 My focus in Shuiji has been those potters and potteries that are recreating the original Jian ware Tea bowls, using the traditional materials and techniques including Dragon Kilns. This is now a very vibrant community with some 50 Dragon kilns being built over the last 4 years. I will have a lot more to say about them in a future blog.
Whilst this traditional revival has been going on there has been a resurgence in interest in the black glazed Oil Spot tea bowls and to satisfy this there has been a minor revolution going on in the village. I'm not entirely sure, but I am told a couple of local potters worked out how to fire the local rock glaze in an electric kiln and, by reduce cooling, get the highly desirable oil spot effect. These then became teachers, showing how it can be done and making a business out of teaching the technique, selling the equipment and suppling the moulds, clay and glaze. From there it was relatively easy for someone with little skill to produce oils spot tea bowls. Like all things, most of the production is very similar but there are a few practitioners whose work is excellent and who are experimenting with both materials and firing techniques to produce work of a very high standard.
I have produced a little video which explains the technique and it features one of the more innovative potters Sun Han Bing, the son of one of the recognised Regional Master Potters of the traditional technique.